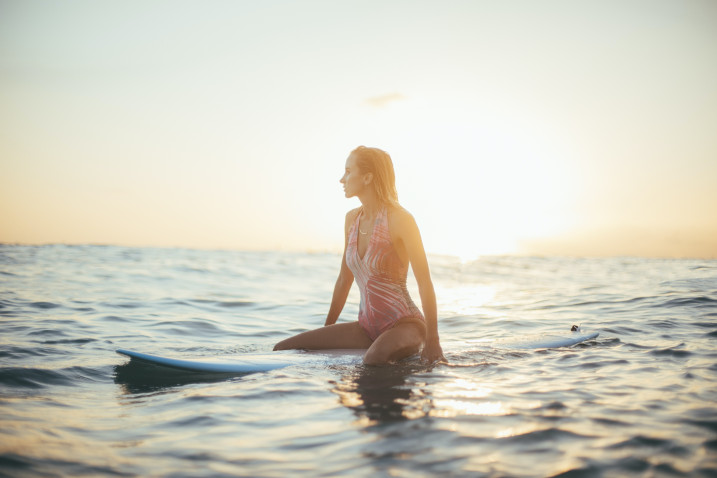 You've been thinking about taking up surfing!

You haven't tried surfing yet, but I'm sure you find it somewhat appealing! ?

Or, do you want to do it, but want one more step and a chance to do it?

In fact, surfing is not only fun, it has many benefits.
I'm going to tell you what I love about surfing because I've done it myself.

Even if you haven't stepped up to the plate yet, you want to be a surf girl! You'd think.
The appeal of beginner surfing girls don't know! It's a stress reliever
Do you have any of these problems?
I can't stop worrying about it. I'm under a lot of stress
I want to be free from the bonds of everyday life
My head is so full of ideas that I want to throw reality away
I want to feel happy
I want to focus on something that will make me forget about time.
Surfing blows away all of these mental anxieties.
If we live our lives every day, we all have to deal with a variety of problems. We live under a lot of stress, don't we?
We're human and it's natural to worry. That's why it's important to find a balance and how to deal with worries.
When stress builds up, the body produces
reactive oxygen species
that are bad for you. Many.
These reactive oxygen species are not good for the body, such as lowering the body's immunity and increasing the number of bad bacteria. They can also accelerate the aging process.
Moderate stress can lead to personal growth, but too much is not good for you.
So, I recommend surfing, for its healing properties, too!  
Fascinating things a novice surfing girl doesn't know! What is the healing effect?
Surfing, as you know, is a sport that gives you a direct taste of nature.
Recently, there is even something called
Surfing Therapy
is.
Surfing is a sport that you can enjoy riding the waves of nature. Nature and surfing are inextricably linked.
When it comes to surfing, there are many factors such as wave conditions, weather, preparation and body maintenance. It's intertwined.
Surfing is a great way to heal mental illness and depression.
Riding the waves of this great ocean, as it often works, "Mother Sea," and surrendering to the waves of nature. The thing is, it has a relaxing effect.
In other words, it balances you mentally.
Because surfing, surprisingly, uses your head and body.
By using my head, I don't have to think about anything else.
When I'm focused on surfing, I don't have to think about anything else, I can just focus on riding the waves. is.
So, after surfing, you'll feel great!
It's a great way to de-stress when you get away from your usual environment and surf in the wilderness.  
Fascinating things a novice surfing girl doesn't know! Happy Hormone Effect
Surfing causes our bodies to release
happy hormones
from our bodies. It is secreted.
Have you ever heard of the term "happy hormones"?
I'd like to introduce you to two happy hormones that are released by surfing.
(1) "Serotonin"
Surfing is a great way to get rid of one of the happy hormones,
serotonin
, a substance in the brain. strong> is secreted.
It's usually secreted by being outside in the sun.
When this serotonin is produced, it helps to balance the mind and keep the mind calm and healthy.
Surfing is an outside sport, so this exposure to sunlight produces an abundance of serotonin You can be done and feel happy!
2) "β-Endorphins"
Surfing releases the neurotransmitter "β-endorphins," which give us a sense of well-being It will be.
When I feel a sense of accomplishment or satisfaction, I get this β-endorphine. Right.
This can have a pain-relieving and sedative effect, and other irritations and small things that don't bother you. The following is a brief description of the process.
If you can feel these "β-endorphins" in the midst of the natural ocean, you can feel your Your troubles may seem small!
Let's make you happy this year with surfing, which stimulates both of these secretions.
Surfing makes you feel so happy, and your own contentment, that you You'll get it.
It's all good things.
This happy hormone can be produced on a regular basis, so I highly recommend being aware of it.
What a beginner surfing girl doesn't know about! Turning into a nice buddy
Surfing is a sport that requires muscles all over your body. By using all the muscles in your body, you'll look and feel more toned and stylish.
Breathing is also important. You use more energy than you need to in the water and your body's balance is important.
By using a variety of muscles, you'll be able to exercise those muscles that you don't normally use.
A girl's body tends to focus on her weight, but if anything, it's better to be aware of her style! Yo.
It's a confidence booster, both when you're dressed and when you're not!  
Fascinating things a beginner surfing girl doesn't know! Satisfaction
The main concern when surfing is when can I ride the natural waves?
Like the weather, the tides are actually related to the waves.
Awareness of the ocean's tides is the key to riding the waves!
Before you go surfing, check the tide tables.
The tide table is shown in the graph below.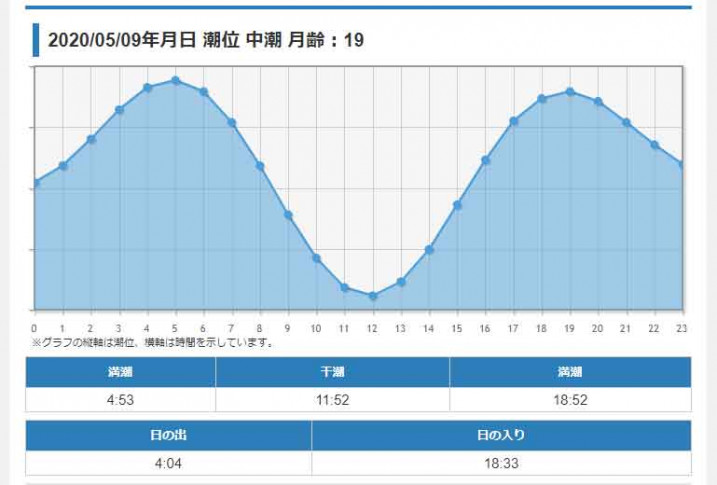 When the lines on the graph go up and down the mountain is your chance to ride the wave.
If you read the graph, the best time to do this is in the morning before noon and in the late afternoon and evening. Timing!
The key is to check this tide chart along with the weather every time.
In the morning, you can use the time afterwards to your advantage. With a break in the morning and lunch, you can ride the waves all day long.
In this way, knowing when to ride the wave will help you manage your schedule so that you can keep track of the day's You will feel more satisfied.  
Fascinating things a beginner surfing girl doesn't know! Fun on your own
Have you ever thought to yourself, "I just want to go somewhere without worrying about anyone else? ?
When you want to get away from your normal routine, you can go surfing by yourself.
There are a lot of things you don't understand at first, and there's a lot to ride and learn.
At first we're all together, then once we get used to it, we're on our own! You can enjoy surfing depending on your mood.
I love surfing with my buddies and having the most fun.
But if you want to be alone, you can enjoy the freedom of surfing without the constraints of others.  
Summary
Did you get the idea of what beginner surfing girls don't know about surfing?
Best of all, you'll be filled with yourself, body and soul, that's for sure!
Surrender to the waves of nature and let yourself grow.
Once you start surfing, it's all about the positives for you.
You want to be a surf girl? This year you'll ride the waves and of course the waves of life.