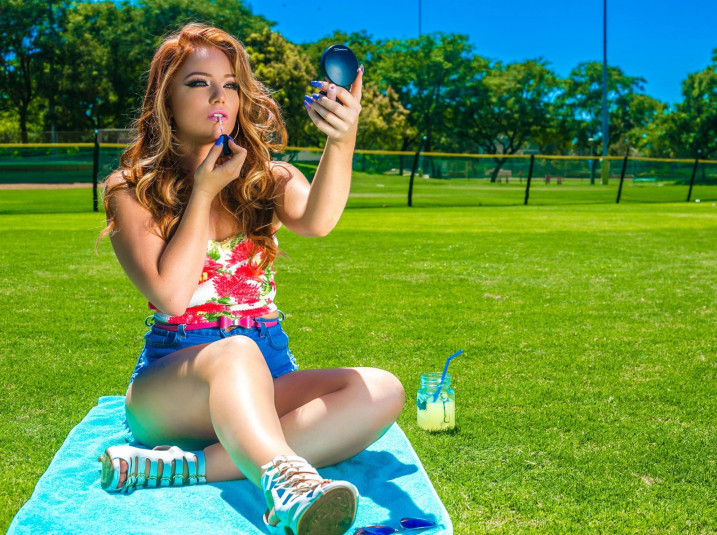 Whether you're surfing or in the ocean, you want to wear not only your base makeup but also your point makeup!
For those surfing girls, makeup that won't lose to the sea or UV rays. We've gathered information on point makeup that doesn't collapse.
There are many types of point makeup, and many people don't know which one to choose.

Surf Girl Point Makeup
Surf Girl Women's point makeup problems

The eyebrow comes off.
The mascara has fallen off and turned black.
The color is gone.
The make-up is worn out.
It's hard to reapply makeup.

There are a variety of problems such as

Sea = water resistant makeup is the basics. When it comes to water resistance, it's an oil-based one. It's a good idea to choose something that is said to be water proof. However, depending on the compatibility, it can be counterproductive. Choose a point makeup that suits your skin and birth makeup.
 
Ocean and water-resistant make-up products that are great for surf girls
Waterproof cosmetics

Water proof means "water resistant".
Water resistance means it contains water-repellent components (silicon components).

By putting silicone in the makeup, it is less likely to mix with water and sweat, and as a result, the makeup is less likely to fall apart.

Water resistance is a term we hear a lot, but why is silicone used?

Silicon has water-repelling properties.
The surface of the silicone is smooth.
It has a glossy appearance.

The silicone in it creates a water-resistant makeup film, so it's used in combination with other oil ingredients.

Silicones in cosmetics and water proofs can be methycone, dimethicone, cyclomethicone, siloxane, silanol, etc.

If your cosmetics contain silicone
, you may not be able to use them.
There are foundations, sunscreen, mascara, eyeshadow, and eyeliner.
In addition to cosmetics, we also use them in shampoos, conditioners, hair serums, etc.

There was a time when it was said that non-silicone was better.

Some products do not contain silicone, which may result in less water resistance or more hair loss.

Surfing Women's Recommended Makeup
Basic makeup shapes

There are three types of shapes.

(1) Powder type & rarr; Since the powder is pressed, it extends fluffily.
(2) Liquid type & rarr; liquid type, easy to extend on the skin.
(3) Cream type & rarr; cream type with high adhesion.

In addition, the gel type of eyeliner (harder than the liquid).
For eyebrows and lips, there are also items that have a shape +α function, such as tints (those that set the color on the skin).

For sea surf girl makeup, water resistant and water proof makeup, cream and tint are popular. Let's take a closer look at it.
 
Eyebrow: Point makeup for women surfing
A brow tint that won't go away
If you want an easy, water-resistant eyebrow, it's a good idea to add color to your eyebrows.
Eyebrow tint can be put on your eyebrows the day before and go to bed, so you don't have to write on your eyebrows the next day and it will be hard to remove.

MAYBELLINE Brow ink gel Tint (1200 yen, excluding tax)
A popular eyebrow tint for longer lasting brows
The gel-like tint slides over the eyebrows and is easy to use.
 
Petiteal Dark Brown Eyebrow Tint Color Gel (1,200 yen, excluding tax)
Resistant to water and falls off easily.
This is a powerful eyebrow tint that keeps the color for 1-5 days. ㅤㅤ Water-proofed eyebrow for your usual eyebrow

SHISEIDO ANESSA PERFECT BROW (1,500 yen incl. tax)
This eyebrow can be used as an eyebrow coat and does not fall off even when sweating.

Powerful Stay Eyebrow Pencil (1400 yen, excluding tax)
Waterproof for long-lasting coverage.
Not only is it sweat-water resistant, but it's easy to draw.

You can also apply an eyebrow coating to your usual eyebrows to maintain your usual look.

Eyebrows are the second most important thing after the base, aren't they?
If you have eyebrows, the forehead of the face is firm, so base makeup and eyebrows, you want to be neat without dropping.

Eyebrow coating for women surfing

Eyebrow coat that won't disappear or disappear

I wrote my eyebrows, but they're gone. In such a case, use a brow coat.
It further protects the eyebrow from abrasion, water, sweat and sebum. The more you coat it, the harder it will come off.
Introducing the popular brow coat.

Cézanne Eyebrow Coat N (460 yen, excluding tax)
It is resistant to sweat, water, sebum and rubbing, and will keep your eyebrow makeup in place.
Dries quickly and has a natural, non-shiny finish.
 
Elizabeth Vivo Eyebrow Coat (660 yen incl. tax)
She has a new eyebrow coat. It is water-proof and resistant to abrasion. Recommended for sports and leisure.
It will keep your eyebrows beautiful all day long.

Brow Lash EX Brow Coating N (990 yen incl. tax)
The brow makeup disappears. It keeps the drawn eyebrows in place. It's water resistant and perfect for those times when you just want to keep your eyebrow make-up

Eyeliner: Point makeup for women surfing

I don't even want to take off my eyeliner

Some people pull eyeliner and some people don't, so we looked into which liners are water resistant.
You want to be careful about the amount so that you don't become a panda.
It's the area around the eyes, so it's better to be more discreet than usual

Integrate Super Keep Liquid Liner (1,045 yen incl. tax)
A liquid liner that allows you to draw delicate or sharp lines at will.
Even though it's water proof, it can be removed with normal cleansing and cleansing agents.

Can Make Creamy Touch Liner (650 yen, excluding tax)
This gel eyeliner adheres well when it dries and is water resistant.
The clean lines will last a long time. It is easy to draw because it is thin.

Kate Rare Fit Gel Pencil (1210 yen incl. tax)
A gel eyeliner that can be drawn smoothly.
The product adheres well and does not bleed or fall off.
Water-proof type.
Eye Shadows: Recommended Makeup for Women Surfing
On the eyes, even the eyeshadow is no slouch

For eyeshadows, it is recommended to bring a water proof color with good color.
In particular, it is said that water-proof pencils and crayon types have high adhesion and are difficult to fall off.

Ma Couleur Crayon Eyeshadow (1,650 yen incl. tax)
A crayon eyeshadow with good adhesion and color development. Waterproof and long-lasting color retention.
It is soft and easy to write on, and can be used as an eyeliner if you draw it on the crease of the eye

Visee Viscé Richet Crayon Eye Color (1200 yen, excluding tax)
Water Proof. An eye color with good adhesion and color development. It can be used as a shadow or as an eye line.

Mascara: The best mascara for women surfing

I want to wear mascara well

I also want to wear mascara. False eyelashes and eyelash extensions are also good, but if you're thinking of using mascara, Rimmel is recommended.

Rimmel Storm-Proof Mascara
The Rimmel Storm-Proof Mascara It is so water resistant that it won't bleed even if it is hit by heavy rain! You can surf and get caught in the waves, too. If it's water proof and can stand up to heavy rain, this is the one to go with it.
 
Blush & Lips for surfing girls

Use the same blush and lipstick for a quicker look

Cheeks tend to get sunburned easily, so it blends in without interfering with your makeup routine. You can put a lip tint on your blush. Some colors last a few days without any repainting.


It's close to the gel type & rarr;liquid type, but it has a shiny feeling.
Stick type→Stick type is easy to apply and use.

Among the three types of lip tint, I recommend the liquid type lip tint if you apply it to the sea and surfing.
It doesn't fade easily and helps to prevent blood loss.
You can reapply, so even if your shadow or blush has fallen off, you'll want to have at least one lip that you can easily reapply.
You can also use it with UV-protected lip balm to protect your lips from UV rays.