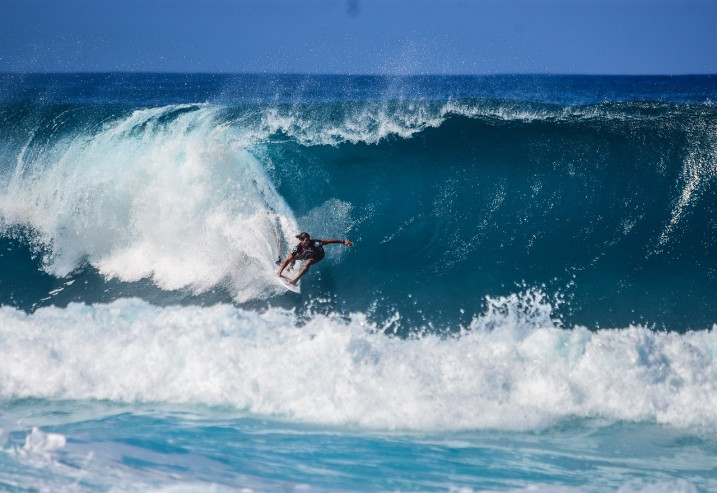 Selected as an additional event for the Tokyo Olympics!
The Tokyo Olympics, which was scheduled to be held in 2020, has been postponed due to the coronavirus.
I was looking forward to surfing, which was newly adopted as an additional discipline from the Tokyo 2020 Games! I'm sure there are many surfers out there who are disappointed with this.
For now, the Tokyo Olympics are scheduled to be held from July 23, 2021, so let's wait in anticipation while learning more about the surfing national team.
Here, we introduce the Japanese representative for the Tokyo Olympics surfing competition.
 
Where will the Tokyo Olympics surfing competition take place?
The stadium and other facilities are being built to accommodate the various events that will take place at the Tokyo Olympics. It has been built at a rapid pace.
Most of them are located in Tokyo, but there are no surfing venues in the city.
Because of the characteristics of the competition, it is difficult to perform surfing in artificial facilities, so it is necessary to perform in the sea where there are natural waves.
Therefore, the competition venue must be a beach with a sandy beach, but "Tsurigasaki Beach" was chosen for the Tokyo Olympics this time.
Tsurigasaki Kaigan is located at the southernmost point of Kujukurihama Beach in Chiba Prefecture and is commonly called Shidashita Point.
Tsurigasaki Beach is famous for the world's best waves and is also called as "Wave Riding Dojo" among surfing enthusiasts.
There are shower facilities and eco-friendly toilets at Tsurigasaki Beach, so it is the best environment as a surfing spot.

 
Nickname of the Japanese national team
Competitors in international competitions such as the Olympics are given unique nicknames, such as Nadeshiko Japan in women's soccer or Samurai Japan in baseball.
This is no exception to surfing. The Japanese representative of surfing is nicknamed "NAMINORI JAPAN".

 
How to qualify for surfing at the Tokyo Olympics?
Each event and Olympic Games has its own qualifications and quota.
In the case of surfing,
Shortboards for both men and women
Contestant slots
 There will be 19 spots for both men and women (38 in total)
 Japan will be the host country with one male and one female participant each for a total of two participants
 The maximum number of participants for each country is four, with a maximum of two for both men and women
In addition, the top rankings in the qualifying selection events qualify for the Olympics.
For this reason, no longboarder will be selected to represent Japan at the Tokyo Olympics.
 
Two athletes selected to compete in the Tokyo Olympics
The second Japan Open and ISA World Surfing Games were scheduled to be held in April-May 2020 to select athletes for the Tokyo Olympics, but the coronavirus has postponed the event and no official decision has yet been made on who will represent Japan.
However, there is only one athlete who has been selected to compete in the Tokyo Olympics at this stage.
That was Kanoa Igarashi in the men's team.

Kanoa Igarashi
Kanoa Igarashi, who is also known as the doyen of the surfing world, was born in California, USA, although his parents are Japanese.
His parents were both professional surfers, and he grew up in a genuine surfing family that moved to Hawaii to surf.
The name "Kanoa" means "freedom" in the Hawaiian language.
Igarashi started surfing at the age of 3 under the influence of his parents, won his first competition when he was 6 years old, and was the youngest member of the American team when he was 9 years old. He went on to become a professional surfer with a string of illustrious achievements.
He currently has a sponsorship agreement with an American surfing and snowboarding brand called QUIKSILVER, and will be a Hawaii State Tourism Goodwill Ambassador on February 18, 2020.
 
Featured athletes for the Tokyo Olympics
With the exception of Kanoa Igarashi, no other players have been nominated for the national team yet, but there are several players who are regarded as the favorites.
One of the top prospects for the men's race is 2019 ISA WSG Asia No. 1, Sun Murakami.
On the women's side, 2019 ISA WSG Asia No. 1 Sino Matsuda is seen as the leading candidate.

Shun Murakami
He was born in Yugawara, Kanagawa Prefecture in 1997. Influenced by his father, he started surfing in the second grade of elementary school and started competing in contests when he was 10 years old, winning the Men's Open class at the 2011 All Japan Surfing Grand Championship Games in junior high school.
As a professional surfer, he also signed a contract with wetsuit brand BEWET and went on to represent Japan in the finals of the ISA World Surfing Games for two years in a row. He has now won one of the Asian slots for the Tokyo Olympics, albeit provisionally.
 
Official site https://shun-murakami.com/



He was born in 2002 in Chigasaki City, Kanagawa Prefecture, which is a popular surfing spot.
I started surfing at the age of 6, influenced by my parents who were longboarders. In sixth grade of elementary school, he obtained the Japan Surfing Federation's official shortboard certification (Level 1), and in second grade of junior high school, he obtained the Japan Professional Surfing Federation's official professional certification.
Since then, she has won a number of competitions and won a silver medal in the women's U-16 at the 2018 World Junior Surfing Championships, became the inaugural Japan Open Queen at the inaugural Japan Open of Surfing in 2019, and at the ISA World Surfing Games in 2019, she finished 15th, the highest ranking Asian athlete, and is almost certain to qualify for the Tokyo Olympics.
 
Official site http://shino.surf/