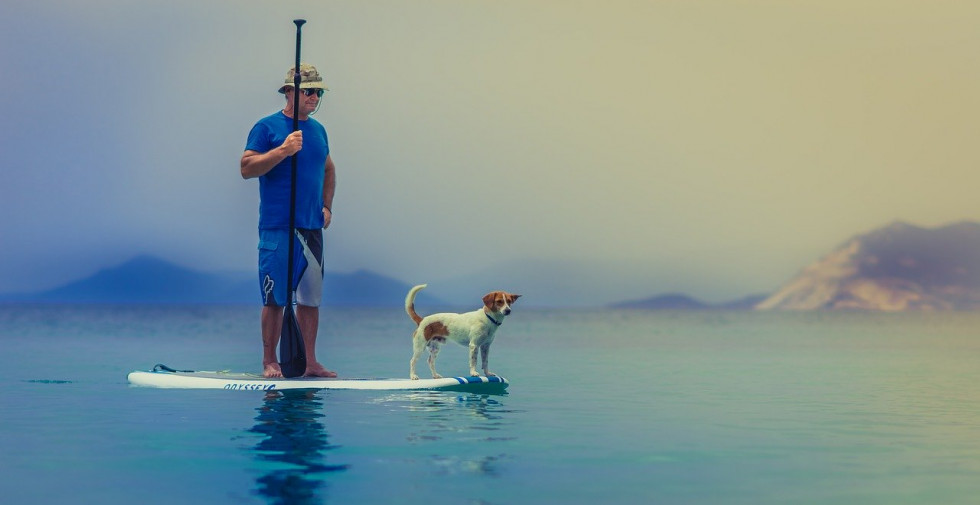 SUP Yoga is a popular form of yoga performed while floating on the water. Many people are fascinated by the satisfaction of being one with the waves, and the benefits surpass those of regular yoga for both fitness and relaxation.
What you need to prepare for SUP Yoga is a little different from what you need to do on the ground because of the various poses and the possibility of getting wet. Therefore, some of you may not know what kind of supplies and clothes to wear.
In this article, I will introduce the clothes and supplies that I would like all girls who want to start SUP yoga to have! I hope you find it helpful.
Main Outfits for SUP Yoga
Since it's on the water, doesn't it have to be a bathing suit? Can't you do it without yoga wear? Some of you may have such concerns. If you've been holding back on your feet because of your aversion to taut clothing and swimwear, don't worry. It doesn't have to be that way.
When you do SUP yoga, you should basically wear clothes that can get wet and a jumper to prevent sunburn. So, for example, you can wear your regular swimsuit with a tank top or shorts over it for yoga, or you can wear a camisole or shorts over your top for easy movement. We also recommend wearing a rash guard or a thin hoodie with UV protection if you are concerned about sunburn or want to hide your body line.
Another option is to utilize yoga leggings if you already have yoga wear or want to cover your legs with long pants. If you have them, there is no additional cost, and even if you don't have them, you can wear leggings for further UV protection. You'll look like an accomplished SUP yoga girl when paired with a yoga wear short top!  
What to Wear to Avoid at SUP Yoga
SUP Yoga has a wide range of clothes to choose from, as long as they are comfortable with getting wet, but there are some yoga wears in circulation that should be avoided. It's draped yoga wear. Drape is the folds of fabric found in fashionable clothes. Many of them are thick, so the more draped they are, the heavier they will become in the event of an emergency. If it becomes difficult to get up on the land or the board when you have fallen into the water, it is embarrassing, and if you feel uncomfortable or hard to move afterwards, you will ruin your time. Try to choose clothes made of materials and designs that won't be a burden even if you get in the water.  
Basic Supplies for SUP Yoga
SUP Yoga requires a little more equipment than regular yoga, but some of it is available for rent at some locations.
Basic SUP Yoga Supplies (available for rent)
Stand-up paddleboard
Paddle
Wetsuit
Life jackets
If these are purchased by yourself, the width of enjoyment increases, such as the pattern of the board being stylishly elaborated, but honestly, it is not cheap when it comes to the actual purchase. It's also a good idea to start with a rental, and then set it up one at a time. It is recommended that you do your research in advance to find out if it is available for rent.
In addition, other items that you may want to prepare for yourself include the following.
Change of clothes
Bath towels
Flip flops
Sober up
(↓ for outdoor)
Sunscreen, sunglasses and hats
After you get out of the water, your body temperature tends to be taken away, and you may catch a cold if you leave it for a long time. Wipe your body thoroughly with a bath towel prepared in advance and change immediately. You may imagine that flip flops are needed outdoors to protect your feet from sharp objects or to prevent burns from sand, but in fact, flip flops are also needed indoors depending on the location. It might be good to have a pair of these for any occasion. And what we tend to forget is the sickness remedy. They spend a lot of time on the board, which can make you feel uncomfortable. It may not be necessary for those who are resistant to shaking, but if you are prone to motion sickness, it is recommended that you carry it.  
Recap
How did you like it? It's inevitable that collecting supplies will cost you money when you start something. Especially when it is bought in a shop, it is a little expensive because there are many good things, and in addition, there are many things that are covered with other people because everyone is buying in the same place. The person who wants to make an individuality and the person who wants to buy it as cheaply as possible. At first, you may need to be courageous, "I wonder if it's okay," but by all means, please try to make use of Yahoo shopping and Amazon. You may find cute clothes and supplies at a lower price than buying them in a shop.